It's no secret that ants have had a social structure since the beginning. As humans we seek to understand their world and we tend to study it a lot along with their behavior and [...]
Too cute to be forgotten...because...Oh the damage! Rats have been "chew" it all. I feel bad for them and their cousins. All of them. But I feel even more bad for humans. [...]
What NOT to do: We consult the internet a lot when comparing spider bites, but one of the things we shouldn't do is compare insect or arachnid bites with other photos. Each person will [...]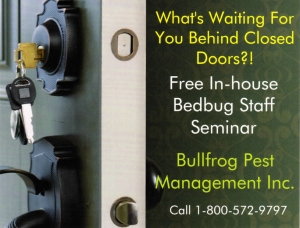 FREE In-house BEDBUG seminar
Invite your staff to attend a FREE In-house BEDBUG seminar. Set up a time at your business, at your convenience to train your staff how to spot bedbugs, proper protocol to follow and steps to prevent bedbug infestations. Reduce the amount of time that your rooms are off-line. Call today for this no-obligation seminar.
Call us today to set a date: 1-800-572-9797
Commercial * Institutional * Residential * Health and Human Service Facilities
Bullfrog Pest Management Inc., is a comprehensive, family owned pest control company offering quality proactive, progressive and safe solutions to pest problems through Integrated Pest Management (IPM) and Green Pest Management (GPM).
Since 1978, the company has been a hardworking and trusted partner to its commercial, residential and institutional clients. Our highly trained technicians inspect, advise, and design a tailored pest management program that combats pest problems and reduces harmful pesticide use where our clients live, work, and play. Committed to safe practices, in 2008, Bullfrog Pest Management became one of the first companies in the nation to become Green Shield Certified; proving that 'Bullfrog Green' is a verifiable Advanced IPM program.
Please browse our site and learn how we may be of service to you and/or your organization. We service Long Island, New York City, Manhattan, Queens, Bronx, Brooklyn, Syosset, Nassau County and Suffolk County.
Commercial * Institutional * Residential * Health and Human Service Facilities
Termites

Carpenter Ants

Ants

Roaches

Bed Bugs

Spiders

Silverfish

Mosquitos

New Customers: Let Bullfrog protect your most valuable assets and save your home
First year FREE service With the installation of Advance Termite Bait System included in a general pest control contract.
Round 1…FIGHT!
New York City's own Bullfrog Pest fights the Bed Bug Pandemic! Find out which contender wins this fight, Bedbug or Bullfrog…