Click on a pest image to learn more!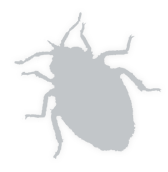 Bed Bugs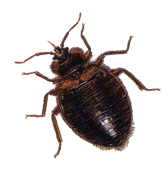 Bed bugs are on the rise in America, they feed on human blood. Our treatment is very intense and thorough.

Termites

Termites cause more damage annually to homes and property than all hurricanes and tornadoes combined.
AA Quality Pest Control's use of our new non-toxic baiting/monitoring system provides the very best prevention, and further treatment if needed, with all work warranteed.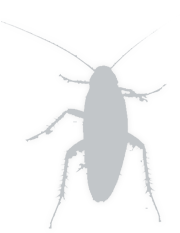 Cockroach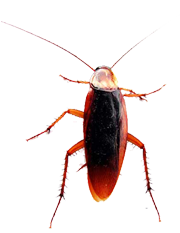 The American cockroach is the largest cockroach that infests buildings in the United States. This insect may be recognized by a yellow "figure-8" pattern on the shield at the front of its body. In Florida, the American cockroach is called the "palmetto bug," and it has the nickname "water bug" throughout the United States.
Our treatment of roaches and other crawling insects consists of treatment using residual barrier around and on all structures to control invasion points, as well as exclusion techniques.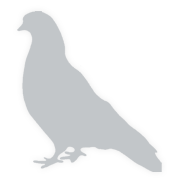 Pest Birds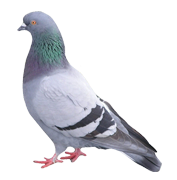 Our treatment of pest birds such as pigeons, starlings and sparrows consists of exclusion and aversion techniques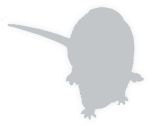 Rodents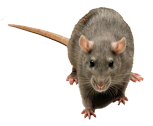 Mice, Rats, and Other small mammals are controlled by building them out of the property, the use of locked baiting stations, and eliminating any harborages. Great care is taking not to endanger non targeted speices, as well as man.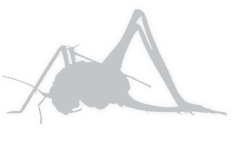 Cave/Camelback Crickets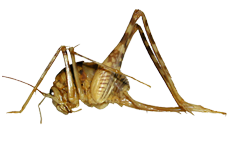 Cave/Camelback Crickets love dampness and dark areas such as caves, but they also like basements, laundry rooms, garages, etc. Elimination is achieved by inspection, the use of baiting in those areas effected and perimeter treatment.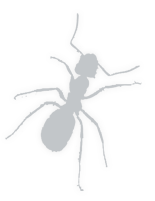 Carpenter Ants
Carpenter ants are one of natures most aggressive wood destroyers.  Similar to termites, carpenter ants damage wood.  As such, they are of economic importance to the pest control industry and to homeowners alike.  Unlike termites however, carpenter ants do not eat wood for food.  Carpenter ants only bore into wood to establish and/or enlarge their nest.  Carpenter ants can be considered wood destroying pests because of their ability to cause damage to wood.  The amount of damage carpenter ants cause is usually far less in comparison to that of subterranean termites, however, if carpenter ant nests are left untreated and undisturbed, the shear numbers of ants can be enormous and the resulting damage caused by "mining" of wood to increase the nest can be substantial.
Fruit Flies
Our treatment of fruit flies, stinging insects etc consists of the use of Non-Toxic flying insect catching devices, as well as treatment with Organic Pesticide and Exclusion of insect nests.
Geese & Giant Birds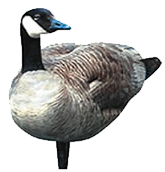 Geese and Giant Birds are controlled using Non-Toxic aversion methods. Non-chemical, Green methods of control is as effective and convenient as a chemical alternative!